Keep your website running smoothly with a business hosting company that guarantees you good uptime, fast load times and easy setup.

The best web hosting services for 2020 are:
Bluehost the most popular hosts in the world, and they currently host over 2 million websites. You'll see them frequently recommended by popular bloggers and website owners the world over! Granted, they're not the cheapest, but in terms of what you get for your money, they're the best.
They have industry-leading uptime, so your site will virtually never be offline when you need it. You'll also find breakneck loading speeds as well, so your visitors will never be waiting for your site to load.
Beyond the high levels of performance, you'll also get access to their support team 24/7/365.
Also included with the cheap shared hosting plan is a free domain name for your first year of service, along with one-click installs for a variety of different website builders, tools, including the ever-popular WordPress.
Currently, the cheapest shared hosting plan will cost $2.95 per month – that's just 0.09¢ per day! But, to lock in this rate, you will need to commit to a 36-month plan. If you want to sign up for a less lengthy plan, then your monthly rate will be $4.95/month for a 24-month plan, or $5.95/mo for a one-year plan.
The cheap shared starter plan will also come equipped with a free SSL certificate, along with support for up to 5 email accounts, unlimited bandwidth, and 50GB of storage space.
Pros:
Your website will load very quickly and rarely (if ever) be offline
Free domain name when you purchase a hosting plan. Choose from a range of top level domain extensions such as .com .space .org .tech .online and many more.
You get plenty of extras included with your plan like a free SSL certificate, unmetered bandwidth, and integrated security features
The host is officially recommended by WordPress and you can install WordPress on your site with a single click
The control panel and interface is very easy to use for beginners, from site setup, to managing your hosting account
Cons:
The renewal rate after your initial term does jump in price, plus to lock in that low rate you'll have to sign up for a longer contract
Site migrations from another host aren't included in the signup price, you'll have to pay an additional fee
Hostinger is one of the cheapest web hosting companies on the market today. A lot of hosts that offer rates this cheap end up having poor performance are unreliable, provide lousy support, or have other unforeseen issues.
But, Hostinger is the exact opposite. Even with the super low prices, you'll find very high uptime, super-fast servers, and 24/7 customer support.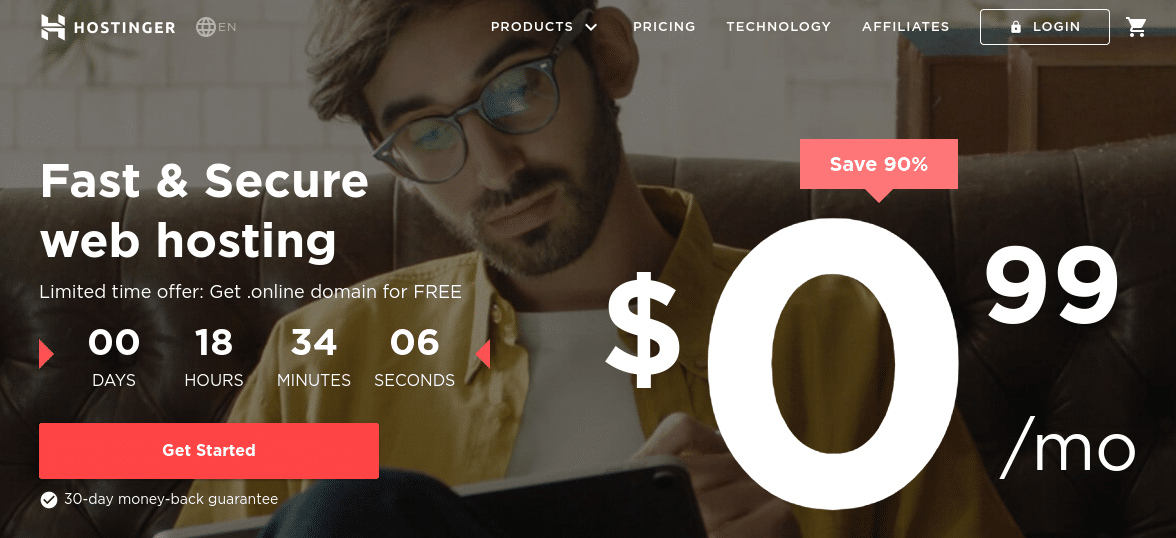 The basic shared hosting plan will include server features like support for hosting one website, one email account, unlimited storage, weekly website backups, and 100GB of bandwidth.
If your site outgrows the basic shared hosting plans you'll find a variety of other forms of hosting available as well, like cloud hosting and VPS hosting.
Currently, the cheapest shared hosting plan will only cost you $0.99 per month, making it the cheapest host on this list.
Pros:
Incredible hosting performance, very high uptime, and super fast loading speeds
Some of the cheapest introductory rates out there (get started for less than a dollar per month)
You can use the free site migration if you're a first-time customer
The basic servers are optimized for WordPress sites (helping you achieve the highest level of performance)
The higher-level shared hosting plan (still very cheap) comes equipped with advanced security features
There's a 30-day money back guarantee for you to test out the service
Cons:
The monthly hosting price will increase after your initial term is up.
The cheapest shared hosting plan can only support a single domain (so no way to host multiple websites on the cheap plan)
No SSH server access (not necessary for beginner website owners)
GreenGeeks is one of the most popular eco-friendly hosts in the world! They've made a name for themselves by putting a focus on the environment. But, even websites and companies that aren't environmentally-focused can take advantage of the cheap hosting packages offered here.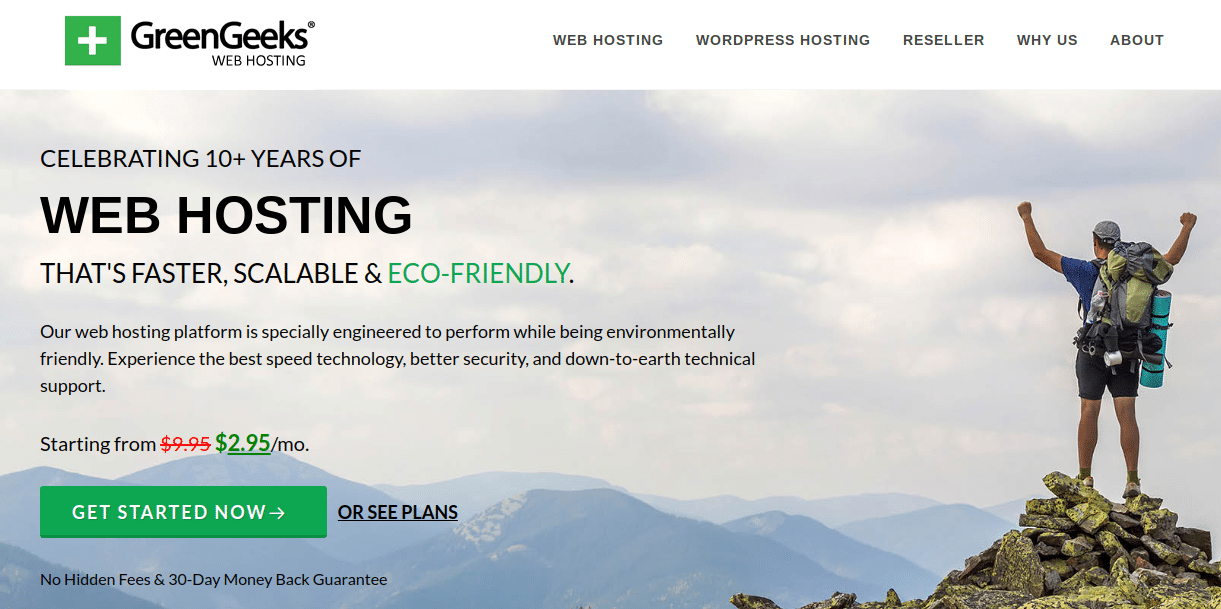 They don't offer the fastest loading speeds or uptime when compared to other hosts on the list. But, even though they're not leading the pack, the levels of uptime and loading speeds are more than enough for a majority of website owners. You'll also find a 24/7 support team that's highly responsive and very helpful if you ever run into any issues with your site.
With the cheap shared hosting plan, you'll also get access to unlimited bandwidth, unlimited SSD storage, support for unlimited email accounts, a free domain name for your first year of service, a free website builder, and a free SSL certificate. That's a lot of additional features for such a cheap plan.
The cheapest starter plan currently costs $2.95 per month, but to lock in that affordable rate, you will need to commit to a 36-month plan.
Pros:
Very fast server speeds, so your site will load super quickly
The host has been in business for a long time and has a roster of satisfied clients
Your first year of hosting includes a free domain name
If you're migrating a site over to GreenGeeks, there's a free migration included
They're an industry-leading green host
Cons:
There's a price increase after the first billing term
There's a setup fee that's non-refundable when you setup your account
Uptime is typically high, but there have been recent issues
HostGator is one of the most well-known and popular hosting brands across the world today, and for a good reason. HostGator has been in business for nearly 20 years and currently hosts over 10 million websites. That's a lot of people who trust HostGator with their sites.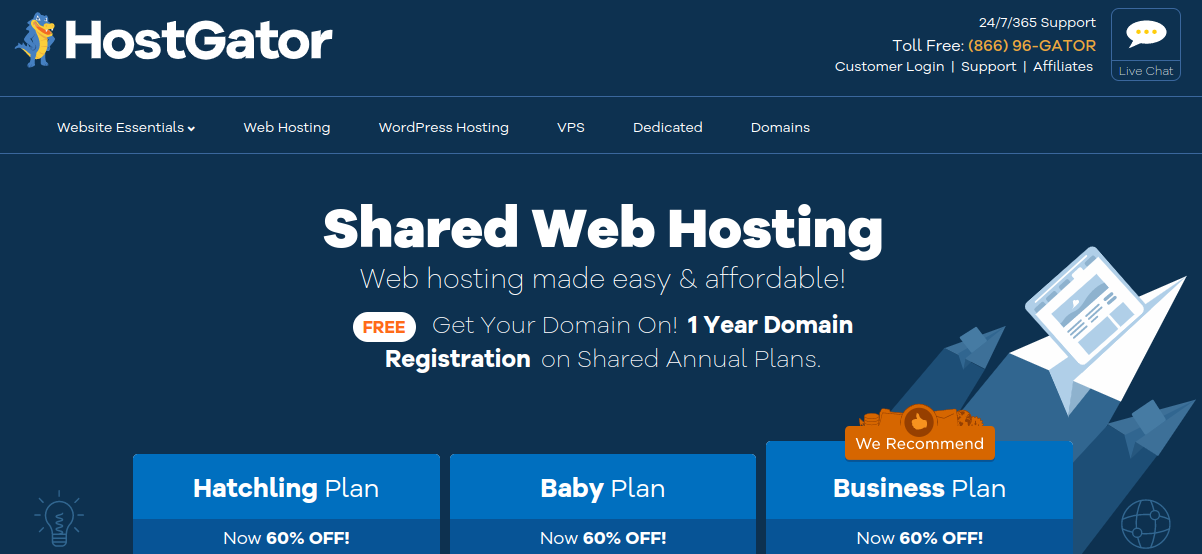 Even the basic shared hosting plan will offer you pretty high uptime and a decent level of performance. More than enough for a website that's just getting off the ground.
The starter shared hosting plan is equipped with unlimited bandwidth and storage, a free domain name for the first year of your service, automated backups, and a free SSL certificate.
Their cheapest plan will currently cost you $2.75 per month, but to lock in this low price, you'll need to sign up for a 36-month plan.
Pros:
It has consistently high uptime, so your site will almost always be online
You'll get access to a knowledgeable and helpful support team, with super fast response times too
There's an extensive 45-day money back guarantee which gives you plenty of time to test out the service
Free migrations from another host are included when you sign up for an account
It's a very beginner friendly host, so it's very easy to setup your site, install WordPress, or use the bundled website builder
Cons:
It isn't the fastest host on the block, so site loading speeds may be an issue
Your monthly hosting price will increase after your initial contract is up
Some added features like improved security, daily backups, and true Gmail integration will cost extra
As their name suggests, Cloudways uses a scalable cloud platform built for speed and simplicity. Unlike shared web hosting, cloud servers give you more dedicated resources, which can help with speed and stability.
It's a robust hosting service for web developers, as it allows PHP developers to deploy containerized applications and other advanced features. Besides, to support PHP7, Cloudways supports many other high-performance technologies like HTTP/2, Nginx, and Redis.
All Cloudways customers can add cloud servers to their accounts at any time. You can also set up a virtual cloud server in under a minute. WordPress is the most popular content management system (CMS) used with Cloudways (not surprising), followed by Drupal, and Magento.
Pricing is tiered based on the server specs you choose and the cloud provider. It starts as low as $10/month, and there is a free 3-day trial. It seems like a short trial, but it gives you enough time to dive into the platform and test its functionality. And if you're looking for security, they provide SSL certificates with domain mapping.
If you're an experience developer and want more control, Cloudways is a good option.
DreamHost is a host that manages over 1.5 million sites use worldwide. They offer a 100% uptime guarantee and an impressive 97-day money-back guarantee.
All sites come pre-installed with a free SSL certificate and WordPress firewall for added security. VPS Basic provides two virtual private servers to each customer to increase speed, scalability, and performance.
They also have multiple caching layers, auto-scaled memory, and these isolated servers to improve speed further.
Additionally, every customer of their DreamPress platform gets built-in server caching and a static IP. These servers are super quick to respond to web requests as a proxy with the Apache and PHP WordPress stack.
First, sign up and enter your domain information. Next, you'll also want to deselect Dreamshield Protection and 1 Mailbox if you don't need email yet.
Liquid Web is known as "all the managed hosting you'll ever need." They are known primarily for their fully managed hosting services. If you want to work with the "most helpful humans in hosting" and never worry about updating a plugin again, read on.
First, their 24/7 customer support has an unbeatable 59-second guarantee. I tested it three times, and it held up to the test. The first time I called in, I received a real live human in 44 seconds. The second time was 32 seconds. Finally, the third time was 48 seconds – cutting it close.
If you're looking for a variety of different hosting options, Liquid Web has 6+ different hosting options depending on your needs:
If you're starting a new site, their Managed WordPress hosting starts at $19.33/month. With that plan, you get one website, 20 GB SSD storage, 5 TB of bandwidth, a free staging environment, and backups every 30 days.
If you're a small or medium-sized business that needs a fully-managed cloud or VPS hosting platform, Liquid Web excels.
Kinsta launched in 2013 with the single goal of creating the best WordPress platform in the world. Their primary focus is working with WordPress experts to create hosting with speed, security, and stability that sets the industry standard.
They have a powerful and easy-to-use dashboard where you can view multiple sites at once, analytics reports, manage users, and see your resource usage:
Kinsta's Starter Plan is $30 per month ($25 if paid annually) and comes with 1 WordPress install, 20,000 site visits, free SSL and CDN, and 5 GB of disk space.
If you are a more substantial business and need to scale your hosting as you grow, they have a tier of 10 different plans. These increase your number of websites, SSD storage, and monthly visitors.
All plans come with free unlimited migrations from several different hosts, automatic daily backups, manual backup points, 24/7 support, and their white-labeled cache plugin.
Once you select their $60 per month Pro Plan, you get extra hosting features including their free "White Glove Migrations." These features allow you to fill out a form, and their team of engineers will set up your site for you.
Overall if you're serious about your WordPress speed and security, Kinsta is a strong pick. If you're an agency developer that wants to host multiple client sites and scale as you grow, Kinsta is a great option.
A2 Hosting is one of the fastest shared hosting providers out there. They continually lead the charge in terms of hosting speeds and overall server performance. A lot of hosting companies that are performance focused end up charging a premium for the service, but not A2 Hosting.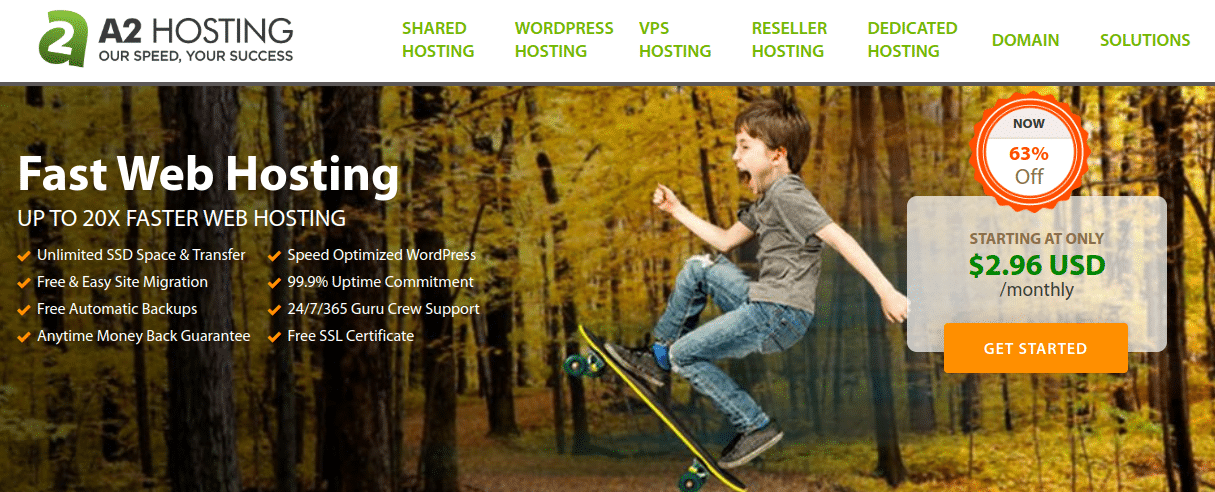 The basic shared hosting plan is not only fast, but it's affordable. The uptime is usually very high, but in recent months it's been up and down a little bit.
With the basic shared starter plan, you only have the ability to host a single website, so if you need a host that'll allow you to host more than a single site, then you'll need to upgrade your plan.
Even with the single site limit, the plan is pretty packed with features, including unlimited bandwidth, unlimited storage with SSD servers, a free domain name for a year, a free SSL certificate, a bundled site builder, support for up to 25 different email account, and WordPress one-click installation.
The cheapest hosting plan offered by A2 Hosting will run you $2.96 per month.
Pros:
Incredibly high-performance servers, so expect lightning-fast loading speeds
Even the entry-level plans are equipped with every feature required to host and grow your site
You can choose between multiple data center locations in the US, Europe, and Asia
Every plan is equipped with an anytime money-back guarantee (giving you plenty of time and freedom to test out the service)
Cons:
You can only host a single domain per hosting account, so no room for multiple sites, or side projects
The live chat support is helpful and knowledgeable, but the response time can be a little slow
InMotion Web Hosting service is a veritable veteran in the hosting business and many users will recall seeing references to it at least here and there. With this respectful background, it is easy to see why this service offers a long list of features, bundles and pricing plans for every user and pocket.
For starters, site loading performance with this solution is simply superb. This comes packaged with an access to a dedicated team of professionals who offer high-level support at any time. What separates InMotion from the rest of the crowd is its propensity to offer bonus features at no extra charge. These include protection from DDoS attacks and malware, email spam shield, and option for creation of functional backups. Hosting is powered by cPanel and Softaculous platforms, which act as its seals of quality. Finally, all of this is easily checkable by any user within a 90-day guarantee period which is more than enough to make up your mind about InMotion's offer.
Namecheap was founded back in the year 2000 and is mostly known as a domain name registrar. They're so well known they currently manage over 7 million different domain names!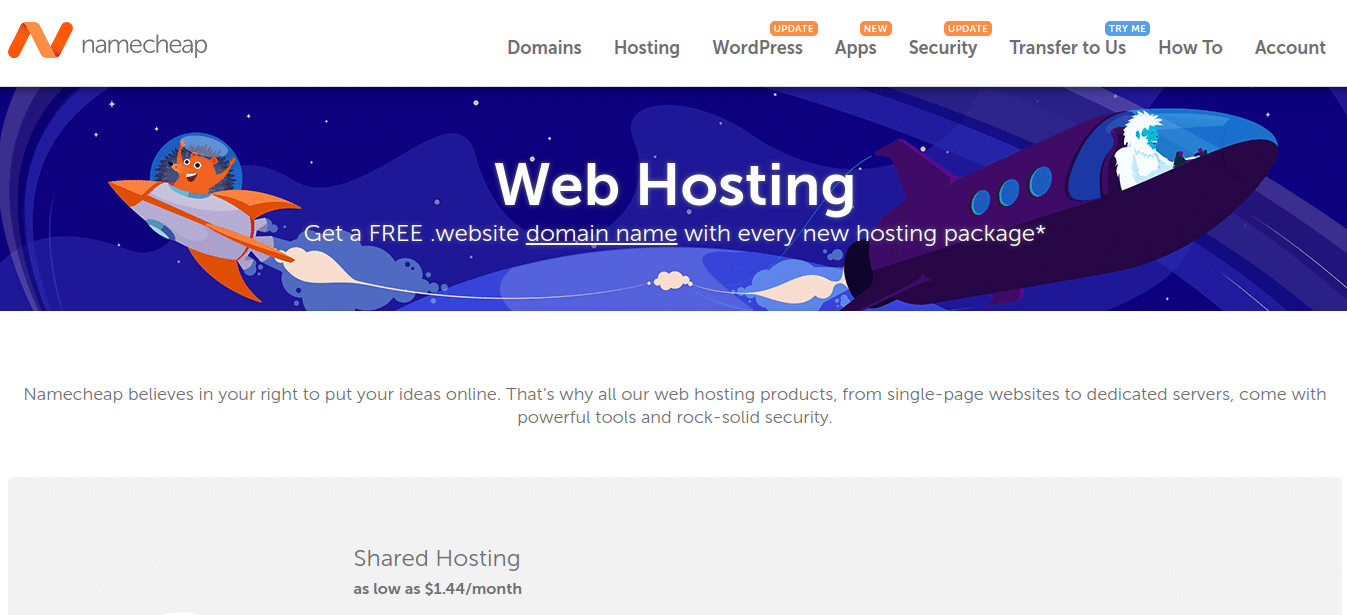 However, beyond solely operating as a domain name registrar, they also branched out into the hosting space. Offering a variety of hosting plans, including an incredibly cheap shared hosting plan.
The basic shared hosting plan is not only incredibly cheap, but includes daily automated backups, bundled security features, unlimited bandwidth, and the ability to host up to 3 different websites. Basically, you'll get everything you need to start and grow your site, or even build out an experimental site on the side.
Another great thing about Namecheap hosting is that it's incredibly easy to setup your hosting account and website.
The basic shared hosting account should be enough if you have a small website, or don't get that much traffic. But, as your site grows you'll probably find yourself running into the plan limits.
Currently, you can pick up the cheap starter shared hosting plan for $1.44 per month.
Pros:
Incredibly cheap introductory pricing
A wealth of additional features, including regular backups, and security firewalls
A 100% uptime guarantee, if your site goes offline you'll be compensated
Cons:
Short money-back guarantee (only 14 days to test out the service)
If you're site is growing (traffic or size) you'll probably outgrow the starter plan quickly
The support team isn't incredibly helpful
In Closing: Choosing the Best Host for Your Needs
Just because a host is cheap, that doesn't mean it's low-quality. In fact, every host mentioned on the list above is a high-quality host that'll support your website and give you everything you need.
Almost every website on the internet today is hosted using a shared hosting plan, a high volume of that using the hosting plans highlighted above.
There is no best hosting, but merely the best web host for your needs. This means they offer you high levels of performance, security, and features on a budget that suits your needs.
Usually, it's the smartest course of action to start with a cheap shared hosting plan and upgrade your site once you require a more powerful hosting plan.
Before you choose the best low-cost web hosting for you, you'll need to take stock of your needs first. Remember, the best host is the one that suits your needs the best.
Ask yourself the following questions before you move forward with one of the hosts above:
What type of website am I building? eCommerce? A blog? A small business site?
Does your website require a specific type of software to function? Like Windows apps? Or is a Linux server fine?
What is your expected volume of traffic? Now and in the near future?
What's your current budget for website hosting over the first few years of your site's life?
Do you want to use WordPress to build your site? Or a site builder?
Is a strong support team important to you?
Do you require a unique version of PHP to run your site?
Do you want to grow with your host? I.e., upgrade to cloud, VPS, or dedicated hosting in time?
Compare your answers with the features highlighted in the hosting breakdown section above, and you'll have the perfect hosting solution for your needs!
With the right host behind you, it's time to start growing your site, building your community, and turning your new website into a thriving business.
Click here to learn more: https://makeawebsitehub.com/best-cheap-web-hosting/
Click here to learn more: https://www.adamenfroy.com/best-web-hosting-services